For Ecuador
Regrettably, it's been years since I've been out of the US, and months since I've done something that benefited anyone other than myself, my family or my close friends. Since Costa Rica (circa 2006), I've been chomping at the bit to take part in another of these adventures. So…
We took a trip.
On July 2nd, excitement mounting, we flew into Quito, the beautiful capital city, and stayed the first restless night downtown. I can't say enough good things about having your trip planned out for you. We met our guide, Dr. Zambrano, the first night, and he blazed the trail for the rest of the trip. He, his wife, and his jolly hermano Julio drove us around for over 24 cumulative on-the-road hours during the 9 day trip, along the narrow winding roads etched through the Andes highlands.
They first took us to coastal Esmeraldas, the site of our week's work. As I reflected on the trip after the fact, I remember trying to pick a single memory that really struck me, but wasn't yet able to. In looking back after giving it some time, one image has stood out above the others, a particular moment that touched a wide mix and magnitude of emotions. I remember we were riding in the cramped mini-van, just entering the town of Esmeraldas from far up in the mountains, and so had a high vantage point over the rolling hills of foliage and homes. A deep valley strafed the road to our right, with rows of houses, buildings and parks creating a stair-step effect down the near ridge and out of sight into the lower canyons. Just a few feet to our right, and one stair-step (about 8 ft) below the road, a soccer field came into view, full of school kids playing, and others playing giddily about the border of the pitch. This particular field was grass, green and manicured, which was unusual and wonderful in contrast to the concrete, unkempt pitches we'd seen almost everywhere else. It was truly picturesque. And then our eyes drifted up the valley's far ridge.
In the distance across the expanse, a monstrous, bristling oil refinery rose over the scene, dwarfing the field and the tattered suburb, burning fire and pouring acrid smoke into the rainforest sky. A morbid juxtaposition against the serene townscape and lush surroundings. But oil drives the Ecuadorian economy, and the majority of the town is directly or indirectly employed by PetroEcuador (PE), the government-owned oil company. It is not an accident then, that our trip took us to a free medical clinic, sponsored by PE and emblazoned with their logo on every available surface. We wondered if our work was simply "a bandaid on a bullet wound", as the health of the entire town has suffered for this income source, and the source of the problems wasn't going anywhere soon. In addition to parasites and infection, a overarching cocktail of complaints was heard from the patients in the clinic - involving headaches, stomach pains, and a general "feeling of badness" - each attributable to the refinery and it's byproducts. PE knows what it's doing to those citizens, and their current remedy is to bring in whoever they can to provide help and care. And so…
We took a trip.
Before clinic duty, we stopped around the corner at a weathered bamboo house, and met the single mother and her six children who lived in the 13"x13" tin-roofed building. We collected the prefab materials from a lumber yard, and set about demolishing her existing home. It took all of 3 hours with the help of some fearless local neighbors, to rip apart the rotting beams held together by rusty nails and wire. Then we measured (just once), and dug. Nine 70cm support holes, into which foundation beams were placed and leveled by Bob the Engineer, using nothing but a hose and some water (like a boss). Slats were cut by the neighbors, as well as AJ and Todd, using a machete and a much slower and far less exciting hack saw. Cross-beams were nailed into place and floor boards were laid. Two teams took turns levering the prefabbed walls into place while a third group sealed the foundational wood and evened misfit planks with the saw. At this point we headed to lunch and then I made my way to the clinic, but I hear there was a battle fought with "hate-wood" to cut the steps for the front door, and the neighbors deftly affixed the roof, thus completing the structure.
We took a trip.
Alexandria, Kathryn, AJ, Annie and I trekked over to the clinic, housed in an old two-story building. Dentists and oral surgeons on the bottom floor, and medical doctors on the top. We rooted through old scrubs and finally settled on these sweet digs: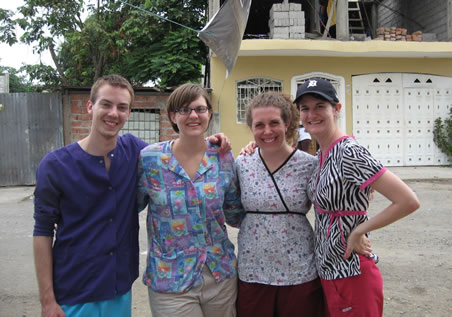 One of my most cherished memories was this first day in the clinic. My comrades had the pharmacy and dental tool sterilization areas covered, so I was asked to assist Evelyn, an oral surgeon, with her patients. I've always been fascinated by medicine, the procedures, and helping people in general, and just being able to witness this -much less participate- was an honor and a privilege. I would have never had that opportunity in the US without years of training, and it was incredible to see the impact those volunteers had up close like that. I was there with her, bent over her patients, maneuvering the suction tube as she pulled teeth, drilled rotting molars and performed all manner of debridement and fillings. She had me fetching tools, preparing lidocane syringes, and assuring young patients with my free hand when they would cry out and risk injuring themselves by seizing her tools in mid-use. The dental clinic alone saw over 150 patients that day, and each and every one that came through Evelyn's chair left better off than they arrived; some had brand new fillings and others would be able to eat without pain for the first time in months. It was truly humbling to see the toughness of the human spirit in this town, and everyone we met was openly kind and glad we were there.
We took a trip.
We wound down the week with a simultaneous neighborhood cookout, dance party, and soccer match extravaganza. Although the Americans were destroyed in futbol, we did get to spend a few more precious hours savoring our newly-formed relationships with local friends and the medical teams. Afterwards it was off to Mindo, high in the Andes rainforest, for some R&R.
We took a trip.
Driving in Ecuador is not for the faint of heart. All the highways are two lanes, and we literally spent more time in the oncoming lane than we did in the right one. Swerving around lumbering oil trucks and sputtering taxis, we whipped around curves with 300 foot walls on one side and 300 foot drops on the other. From sea level to 10,000 ft altitude in one car trip is really something. Upon arriving in Mindo, we ate in a charming small-town cafe and settled in at the bed and breakfast. It didn't take long to notice that Kathryn and Annie's bed was full of fire ants, so they got to spend a fabulous night in AJ and I's room while we shared the bunk bed. Needless to say, you really get to know someone when you see them first wake up in the morning, especially from a night of fortifying their sheets against invading gnats, spiders and whatever else the jungle can throw at you. The next day found us at a butterfly breedery, and then flying across no less than ten ziplines high above the mountainous canopy. Next was rappelling down three waterfalls at heights of up to 60 ft, and with our freshly washed legs, we were readily feasted upon by the nastiest fleas Ecuador had to offer. I'm still scratching as I type this.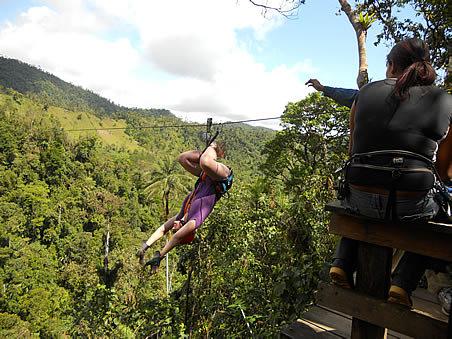 We took a trip.
The best part of the trip was not the R&R. I daresay it wasn't the actual acts of building the house or working the clinic either. Interspersed through all the events and activities and photographs of the week were moments. Single instants of intense emotions or deep conversations spanning 4 hours on a dark bus ride, that won't soon be forgotten. Moments like these don't happen every day. Maybe it's even possible that they can't. They require a unique openness of heart and innate trust between two people who may or may not be well acquainted, which isn't easily accomplished without the trips de facto motto: "Privacy out the window!" Moments and conversations that will stay with you forever. Whether it's a new friend with an impossible language barrier, or an old friend you've missed for years, these moments will remind you for a long time what is really important in this life, and how much of an impact someone can have in just one instant.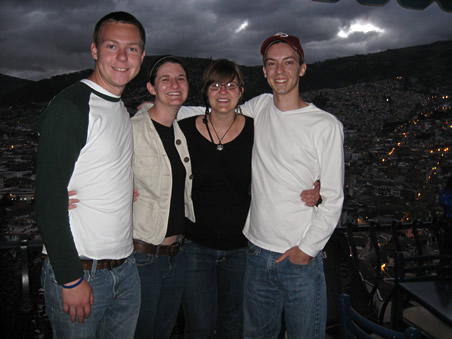 We took a trip.
We took a trip.
The 10 day Ecuador trip was an annual service trip organized by Grow, Inc, a non-profit organization that takes teams all over the world to bring help where it's needed most. Our group of 11 may have been small, unskilled and comprised mostly of monoglots, but the impact we made and the impact of the trip on us was anything but small.
- AS